Welcome to Midwest Farmers Cooperative:
Our objective is to serve the rural community of southeast Nebraska with the most efficient Agronomy, Grain Merchandising, Energy, and Feed products and services available. Please contact us by email or by phone at 800-827-0319 with any questions about availability of service or visit our Locations page to see how to reach any of our 26 locations.

---
To: All Midwest Farmers Cooperative Patrons:
On February 3rd, 2017, Dale Piper announced plans to retire effective August 31, 2017. Dale has worked for and led what is now Midwest Farmers Cooperative for 32 years. The Board of Directors would like to thank Dale for his dedication, loyalty, and leadership. He leaves this cooperative in a very strong financial and strategic position. We wish him and his family the very best as he transitions into the next chapter of his life.

The board of Directors is in the process of identifying and hiring a new CEO for Midwest Farmers Cooperative. Our first step will be to engage a search firm to help facilitate this process. Please watch the Midwest Farmers Cooperative website for updates as we work to identify the very best person to lead our cooperative into the future.

Sincerely,
The Board of Directors

---
The day after Robert Clements was sworn into office, the Nebraska Senator stopped in for a quick early morning visit at the Elmwood office of Midwest Farmers Cooperative. Senator Clements has a background in banking and is a lifelong resident of Cass County. Governor Rickets referred to the new senator as the ideal choice for this position and stated "With his experience, I'm 100 percent comfortable with him being in that role". The Senator graduated in 1973 from UNL with a math major and minors in economic and actuarial science. Congratulations, Senator Clements.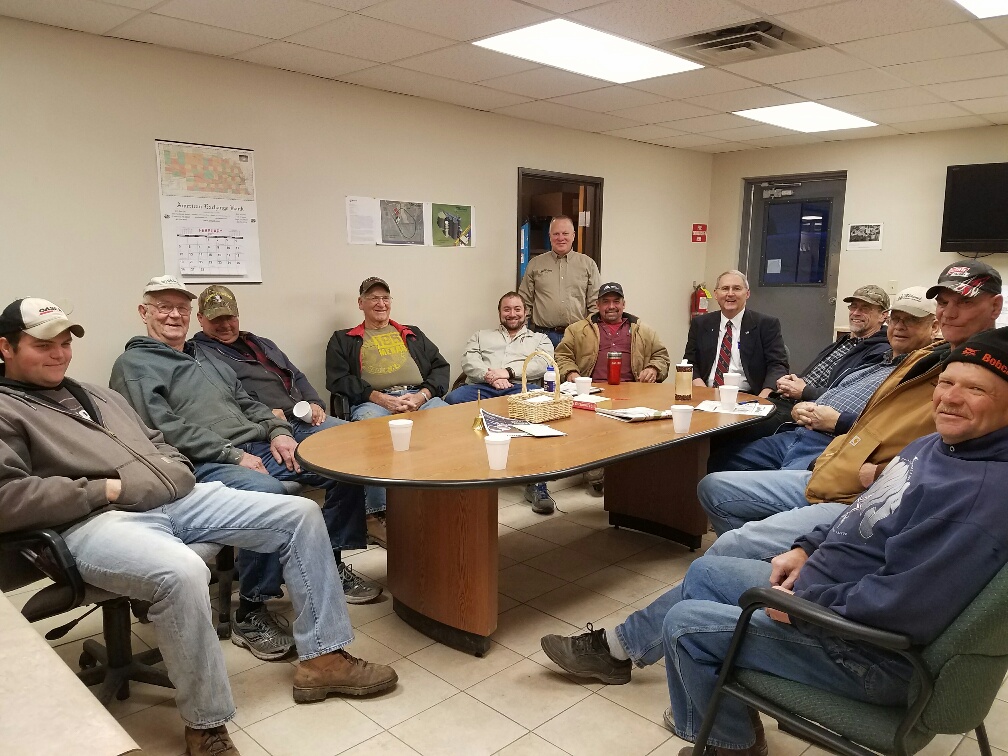 ---
The Midwest Farmers Cooperative schoarship is now available. See News & Resources for more information.
---
Our Winter Newsletter is now available. click here

---

We hosted two Marketing Outlook Meetings. Kevin Riesberg of RJ O'Brien spoke at them. Click here for more information.

---
Looking for solutions to help develop and evaluate product performance and field data? Precision agriculture tools can help. Click here for more information.

---
AND THE WINNERS OF THE CFA VIZIO TVS ARE...(click here)
Now accepting CFA loand applications on the 2017 crop year. For information, go to News & Resources.

---
The NEW Syracuse Rail Facility is open! A ribbon cutting was held November 17. See News & Resources for more information.
Construction has started on the Syracuse Rail Facility Dry Fertilizer plant. Click here
to watch live feed!
---
2016 Fall Harvest Policy
click here
Notice: We are no longer handling grain at the Unadilla location.

Ag Industry Issue Highlights
EPA Proposed Label Changes to Atrazine May Affect Corn Growers. Click the links below to find out more.
How Will This Potential Change Affect You?
How Can You Make Your Voice Heard?
Contacts
Letter
Thank You For Speaking Out on OSHA's PSM!
OSHA PSM Rule Overturned by U.S. Courts